Cockpit ITSM allows you to upload SNMP MIB files so you can simply integrate SNMP with your system monitoring processes in Cockpit ITSM, including your tickets, and enabling you to easily benefit from all the capabilities of SNMP.
Simple Network Management Protocol (SNMP) is a standard protocol for monitoring the status of hardware components on a network. However, to understand the data its offers about your servers, printers, hubs, switches, routers and other devices, you need to have a system in place that allows you to poll these devices to check their status.
Even better if your system allows you to easily include this information within your IT service management solution, and include it in your support tickets, automatic notifications via email or SMS, reports, etc.
Cockpit ITSM offers a really simple way to do all this and more...
About SNMP
The two key concepts in SNMP are Object Identifier (OID) and Management Information Base (MIB). SNMP works by querying objects which are identified with their OID. OIDs are very structured and follow a hierarchical pattern. For example, this is what an OID returning the load of a Unix system would typically look like:
1.3.6.1.2021.10.1.3.1 :

1 (iso)

    3 (org)

        6 (dod)

            1 (internet)

                4 (private)

                    1 (entreprises)

                        2021 (ucdavis)

                            10 (laTable)

                                1 (laEntry)

                                    3 (laLoad)

                                        1 (sytem load on the last minute)

The data and hierarchies are described in MIB files. The Management Information Base maps the hierarchical structure in a standard way, although it does allow for vendor-specific customisation, and all hardware vendors that embed SNMP agents in their devices implement custom branches with their own fields and data points (examples: temperature, disk status, etc.).
The SNMP agent is a software component running on the monitored device, gathering information about the local system and storing it in a format that can be queried.
How Does Cockpit ITSM Use SNMP?
Rather than having to manually send SNMP query requests on a regular basis, which would be impossible for almost all business ecosystems, to get these advantages you will need to use an SNMP manager.
Cockpit ITSM operates as an SNMP manager to interrogate your SNMP agents, using SNMP "GET" requests. This has the advantages of being:
very simple to manage and configure
fully integrated with the rest of your Cockpit ITSM services – so when a SNMP "trap" (notification of a problem) is sent or the response of the SNMP GET request exceeds the configured threshold, it appears in your Cockpit ITSM system and you can be notified by email, SMS, ticket or custom script,
and you benefit from all the other many advantages of using Cockpit ITSM.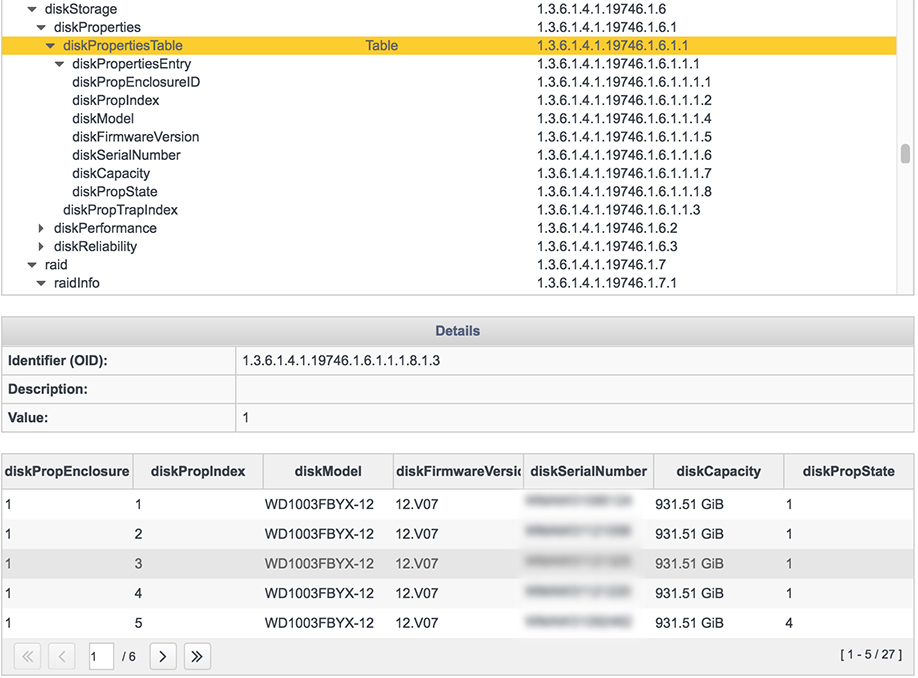 On a basic level, you would configure checks using the OID, set a threshold and rules to receive a notification when there is a problem. However, this requires you to know your devices well enough to be able to identify them by the OID.
In large or complex networks this isn't really feasible. So Cockpit ITSM makes things easier by offering a facility to load the MIB files into your Cockpit ITSM system. As a quality check, during loading the coherence of the MIB file is evaluated and any MIB files with bugs or incorrect data are flagged up. These must be corrected before they can be loaded.
When the MIB files are loaded, you can edit the checks in Cockpit ITSM. Simply surf around the MIB to choose the checks you need. To make this easier, when you select a MIB file, Cockpit ITSM displays all the OID and the hierarchy of the MIB. Select an OID with a single click and the response of the OID request on the equipment is displayed.
It's worth noting that Cockpit ITSM supports all versions of SNMP. There are a number of versions; versions 1 and 2 are the simplest, but don't offer the same security as v3. Cockpit ITSM supports v1, v2c and v3 – so you can choose to use the most appropriate version.
Example of monitoring deployment on a Data Domain disk array :
Element
OID
Description
powerModuleStatus
1.3.6.1.4.1.19746.1.1.1.1.1.1.4.1.1
Current enclosure power module status
tempSensorCurrentValue
1.3.6.1.4.1.19746.1.1.2.1.1.1.5.3.1
1.3.6.1.4.1.19746.1.1.2.1.1.1.5.1.9
Current temperature value of the sensor : Internal ambient
Current temperature value of the sensor : CPU (0)
fanStatus
1.3.6.1.4.1.19746.1.1.3.1.1.1.6.1.1
1.3.6.1.4.1.19746.1.1.3.1.1.1.6.1.2



1.3.6.1.4.1.19746.1.1.3.1.1.1.6.3.1
1.3.6.1.4.1.19746.1.1.3.1.1.1.6.3.2
Current status of the fan.
The last number corresponds to a fan, the number of fan in the device may vary with the model
Status OK returns « 1 »

Current status of the fan for power module.
The last number corresponds to a fan, the number of fan in the device may vary with the model
Status OK returns « 1 »
nvramBatteryStatus
1.3.6.1.4.1.19746.1.2.3.1.1.3.1.1
1.3.6.1.4.1.19746.1.2.3.1.1.3.1.2
1.3.6.1.4.1.19746.1.2.3.1.1.3.1.3
NVRAM battery status
The last number of the OID corresponds to a battery
Status OK return « 0 »

The NVRAM (Non Volatile Random Access Memory) retains its information when the power is off, keeping various system parameters like serial number, Internet MAC address…
nvramBatteryCharge
1.3.6.1.4.1.19746.1.2.3.1.1.4.1.1
1.3.6.1.4.1.19746.1.2.3.1.1.4.1.2
1.3.6.1.4.1.19746.1.2.3.1.1.4.1.3
NVRAM battery charge percentage
The last number of the OID corresponds to a battery
Returned value is a percentage, , example of threshold : Alert if value is less than 10
fileSystemStatus
1.3.6.1.4.1.19746.1.3.1.1.0
Status of the file system
List of status : 1=enabled, 2=disabled, 3=running, 4=unknown, 5=error, 6=cleaning
example of threshold : Alert if value is not equal to 3
fileSystemPercentUsed
1.3.6.1.4.1.19746.1.3.2.1.1.7.1
1.3.6.1.4.1.19746.1.3.2.1.1.7.2
1.3.6.1.4.1.19746.1.3.2.1.1.7.4
Percentage of used space within the file system resource
The last number of the OID corresponds to a file system
Returned value is a percentage, example of threshold : Alert if value is greater than 90
cpuAvgPercentageBusy
1.3.6.1.4.1.19746.1.5.1.1.1.2.1
Average percentage of time CPU was busy
Returned value is a percentage, example of threshold : Alert if value is greater than 90
diskPropState
1.3.6.1.4.1.19746.1.6.1.1.1.8.1.1
1.3.6.1.4.1.19746.1.6.1.1.1.8.1.2
1.3.6.1.4.1.19746.1.6.1.1.1.8.1.3
Current state of the disk
The last number of the OID corresponds to a disk, set a check on each disk
Status OK return « 1 », example of threshold : Alert if value is not equal to 1
diskTotalKBytes
1.3.6.1.4.1.19746.1.6.2.1.1.5.1.1
1.3.6.1.4.1.19746.1.6.2.1.1.5.1.2
1.3.6.1.4.1.19746.1.6.2.1.1.5.1.3
Total number of kilobytes read/written per second
The last number of the OID corresponds to a disk, set a check on each disk
Returned value is an absolute number, example of threshold : Alert if value is greater than 150000 (mean 150 mb/s)
diskBusy
1.3.6.1.4.1.19746.1.6.2.1.1.6.1.1
1.3.6.1.4.1.19746.1.6.2.1.1.6.1.2
1.3.6.1.4.1.19746.1.6.2.1.1.6.1.3
Percentage of time disk is busy
The last number of the OID corresponds to a disk, set a check on each disk
Returned value is a percentage, example of threshold : Alert if value is greater than 50
diskTemperature
1.3.6.1.4.1.19746.1.6.3.1.1.4.1.1
1.3.6.1.4.1.19746.1.6.3.1.1.4.1.2
1.3.6.1.4.1.19746.1.6.3.1.1.4.1.3
Current disk temperature in Celsius
The last number of the OID corresponds to a disk, set a check on each disk
Returned value is an absolute number, example of threshold : Alert if value is greater than 50
Sources
Utilisation de la console d'administration
Caractéristiques d'une baie DD
Documentation de la MIB Data Domain
Request information:
https://www.cockpit-itsm.com/